Business Online Banking
Our Business Online Banking is tailored to meet the needs of everyday businesses.


Today online business is the norm. Many customers conduct business online and demand a suite of modernized features from their bank. With our Business Online Banking, we give you the tools to manage your business banking easily. Our Business Online Banking is available right from your browser or our mobile application anytime, anywhere.
In addition, our Business Online Banking also offers these additional services for business owners:
ACH Origination Services* Take the paper out of payroll by switching to direct deposit with ACH Manager! Create and review NACHA (National Automated Clearing House Association) formatted files for your payroll processing. Easy-to-use funds transfer templates streamline the process of submitting ACH transfers! Make the transition today!
Bill Payments with Check Free Explore our convenient and user-friendly alternative to checks and postage. Establish reminders, create re-occurring payments, and receive your bills electronically, all with Check Free.
Flexible administrative options advanced security options can be customized for you and your staff to meet the needs of your business.
Go Green with Business Online! View your statements, transfer notices, loan payments and more all electronically!
Multi-factor Authentication to help protect your sensitive information. Multi-factor Authentication (MFA) combines traditional user codes with a second level of customer authentication.
Schedule regular transfers, create templates for frequent or scheduled transfers, or perform instant transfers from any deposit account or Line of Credit*
Business Online Banking requires that customers open and maintain a qualifying Business account.** Switch kits with personalized help from one of our friendly Personal Bankers are available to make the transition to Business Online with Waumandee State Bank as smooth as possible!
Waumandee State Bank also offers additional products to complement and streamline your business practices and goals!
Remote Deposit Capture* Scan and submit your checks electronically from the convenience of your place of business through use of a check imaging device.
Business Debit Card* Log into your Business Online account to see purchases and transactions made with your debit card post in real-time.
What are you waiting for? Contact your Personal Banker today!
Business Mobile Banking
Waumandee State Bank has a mobile application just for customers with Business Online Banking!
Just search "WSB Business Mobile" in the iOS or Google Play app stores and download to get started. You can then login with your existing Business Online information. Accessing your Business Online Banking from your smartphone has never been easier.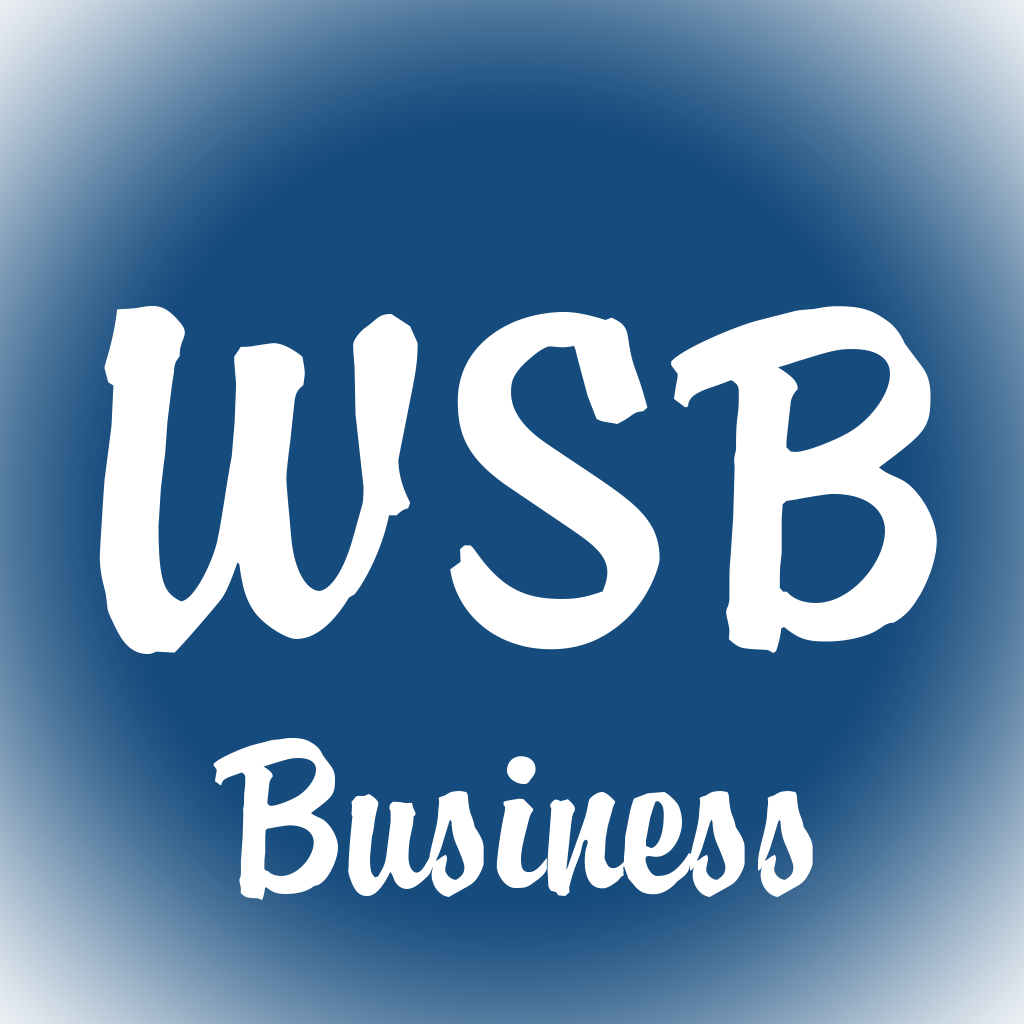 Business Mobile Deposit
Have a check to deposit and can't make it to the bank? Try out Mobile Deposit Capture in our Business Mobile Banking application. Simply enter the amount of the check, choose which account to deposit it into, and take a picture of both sides of the check.
Finally, ensure the check is endorsed with "For Mobile Deposit at Waumandee State Bank Only" after the signature as shown in the image below.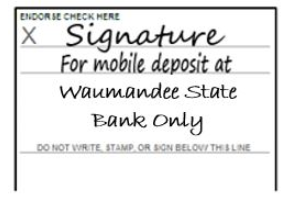 Default Deposit Limits Apply
Per Check Deposit Limit: $5,000
Daily Deposit Limit: $5,000
Checks deposited by 4:00 pm CST will be processed on the same day. Deposits received after 4:00 pm CST or on Saturday, Sunday or bank holidays will be processed on the next business day. Your funds will usually be available no more than two business days after deposit. It is recommended to write on the front of the check mobile deposit and date of deposit and retain for 14 days after deposit has posted.
Remote Deposit Capture
Are you tired of making that daily dash to the bank to deposit your checks? With Remote Deposit Capture (RDC) you can scan and submit your checks electronically from your place of business. With RDC, you can eliminate worries surrounding timely posting of deposits. No more trips to the bank necessary. This method of remote capture is different than depositing through our mobile app, as you will receive a physical check scanning device solely for use with RDC. As such, this product can be particularly useful for businesses who still handle a high volume of traditional paper checks.
Benefits
Convenience – No more daily trips to the branch. Deposit checks right from your desktop.
Expanded cutoffs – Extends deposit window.
Reduced expenses – Saves time and money. Eliminates the cost and liability of regular trips to the branch. Reduces deposit preparation costs. Fewer NSF's.
Faster clearing – Speeds up the availability of funds. Improves cash flow.
Streamlined operations – Automates the process of creating deposit tickets. Improves posting accuracy. Centralizes deposits from satellite offices with one financial institution.
Peace of mind – Reduces the risk of fraud. Assures deposits are being made daily.
Pricing
Remote Deposit Capture Contracts (Includes fees and terms.)
$500.00 One Time Charge
$50.00 Monthly Charge
2 Year Term
$ 0.10 per item charge
Simplify your routine and forgo the daily time, risk and expense of sending an employee offsite or paying for courier pick-up.